Multimedia project PLUS 1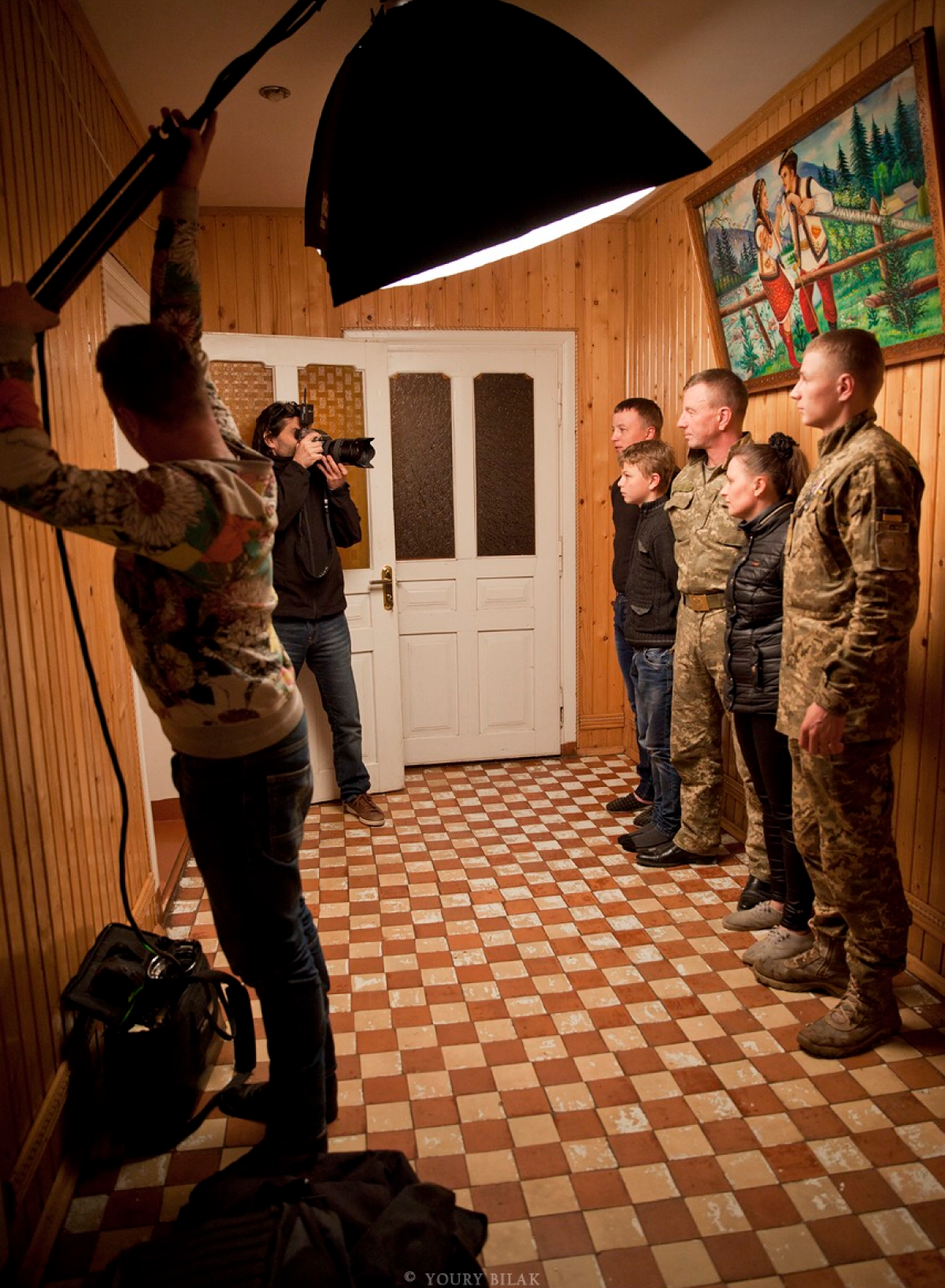 "The PLUS 1 exhibit was created to depict a new socio-cultural image of Ukrainians in search of their own identity. It is also part of a comprehensive multimedia advocacy campaign in which the narratives of Ukrainian soldiers, who perished in the Russo-Ukrainian war, are told through portrait photography and original texts written by eminent Ukrainians. The campaign's mission is to focus on working methodically to honour their memory, but also to punish those guilty of war crimes."
This is informed through photo stands and an interactive website. The campaign objectives are to discuss the phenomenon of the volunteer movement, the concepts of "hero", "victim" and "aggressor" in the cultural dimension and change the attitude towards these concepts in Ukrainian society. The ultimate goal of the campaign is to enshrine these concepts in Ukrainian legislation through social protection for families of war heroes, and to build a new image of the Ukrainian soldier. As part of Ukraine's cultural diplomacy, the exhibit will travel abroad to present a modern image of Ukrainians as defenders of such core values as democracy and freedom. The project is also about love and self awareness. And, a narrative to tell to the world.
This concept is about unity. It's about what unites us all, the path that we must take to build a strong, democratic, united and full-fledged state. It's about the loss that we all feel. It's about empathy.
After the 2013-14 Revolution of Dignity and six years of war against Russia and their minions, Ukraine is slowly moving forward and forging an identity as a nation. PLUS 1 raises the issue of self-determination and self-identity of the modern Ukrainian nation, a new image that remains largely unknown to the average European citizen.
Who are we?
We don't really know yet, but each identity is crystallized in the image of a family or relative, holding an object or a symbol dear to the fallen Warrior. Plus 1 Ukrainian, plus 1 son, plus 1 father, plus 1 husband fighting on the Eastern Front. Plus 1 sister, plus 1 wife, plus 1 daughter standing on the front lines of the struggle for liberation. Plus 1 defender. Plus 1 warrior. Plus 1 loss. Together, the PLUS 1s unite to make a plus 1 democratic country.
Project implementation
The project is built around 22 individual exhibition stands. In iconic and powerful moments captured by a photographer's camera – Youry Bilak, a Frenchman of Ukrainian descent – Ukrainian families tell the stories of their loved ones – Ukrainian soldiers who perished in the war. Each family chose an object that most reminds them of their departed: a father's jacket, a guitar, a suit of medieval armour, a book. These family artifacts reflect a living continuation of the departed. Ukrainian artists, intellectuals, and journalists were invited to create original texts about each soldier. After interviewing the families, Yuriy Andrukhovych, Oleksandr Irvanets, Yaroslav Hrytsak, Larysa Denysenko, Oleksandr Mykhed and 17 other prominent Ukrainians wrote moving stories about their subject.
The heroes of the exhibit were teachers, journalists, builders, programmers, sailors, students, military personnel. Many of them were like most of us, but they took up arms and went to war. They came from all over Ukraine – Mariupol, Zhytomyr, Kharkiv, Kolomyia… and from all walks of life – opera singer Wassyl Slipak, Ukrainian worker Volodia Pytak, who lived in the United States for ten years, student of Japanese Svyat Horbenko, and sailor Andriy Nazarenko. Defending the values ​​of democracy and freedom, they became defenders of not only Ukraine, but of European values and civilization. In these heroes, we can see a part of ourselves. The project problematizes the issue of self-identity. Through the image of the fallen heroes and their families, the project aims to build clear messages that will help us understand ourselves as part of a community. Moreover, by inviting the audience to a shared dialogue, we introduce and work on highlighting these issues through public discourse.
Why?
We want to show both the Ukrainian and the world audience how a person who is ready to fight for his values ​​and beliefs is born and formed. After all, values ​​represent a system of coordinates that determine human ideas and behaviour. We construct and demonstrate the image of an individual, a citizen, a European, who accepted responsibility for themselves and their family, their home, their region, and their country. We should understand that we all strive to live in a space where there is freedom of thought, creative self-expression, and human dignity… a place that we must also protect. A deep awareness of this image will help us to better navigate the present and the future, to be inspired and move towards the creation of a democratic country, a society of free and worthy people.
PLUS1 is a platform for telling human stories. Because every man and woman who wore a military uniform remains first and foremost a human being - with their achievements and defeats, flaws, dreams, experiences and love. By listening to their loved ones tell their stories and reproducing them in written form, we create a platform for discussion, where families who have suffered war losses have the opportunity to express themselves and be heard, thus claiming the right to be understood and recognized. After all, a tragic loss necessitates support, which will allow the bereaved to overcome the most difficult of challenges.